Bulletin Bottle [.com] is a hand-curated selection of custom water bottles featuring a variety of colors, designs, and material choices for your unique brand identity. All custom water bottles on Bulletin Bottle [.com] are BPA free. Water bottles that are denoted as child-safe are age graded and tested for CPSIA compliance. Click for more information on custom water bottles and product safety.
Contigo water bottles are engineered for active lifestyles. Maybe that's why they're so popular! So, by popular demand, we are excited to offer two custom Contigo water bottles—available NOW on our site!
The custom Contigo water bottles we offer are the same ones you see in retail stores. They have the same thoughtful, durable construction. The Contigo AutoSpout is the same innovative pop-up spout and integrated cover that people love. And the lifetime guarantee is the same (phew!). The difference? Since you're buying in bulk, you'll save money…and your logo will be on the bottles! Continue reading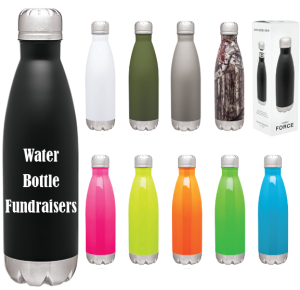 Many of our nonprofit clients that hold water bottle fundraisers think they want to buy cheap water bottles to resell. After all, getting the most bottles you can for the money makes sense, right? At first glance, it might seem that way. However, this is not usually the way to maximize a return on your investment.
Finding a "sweet spot" between initial cost and return will yield a much more successful fundraiser than you think. Don't believe us? Consider these three examples: Continue reading