Bulletin Bottle is a hand-curated selection of custom water bottles featuring a variety of colors, designs, and material choices for your unique brand identity. All custom water bottles on Bulletin Bottle are BPA free. Water bottles that are denoted as child-safe are age graded and tested for CPSIA compliance. Click for more information on custom water bottles and product safety.
Featured Custom Water Bottles
Popular Water Bottle Categories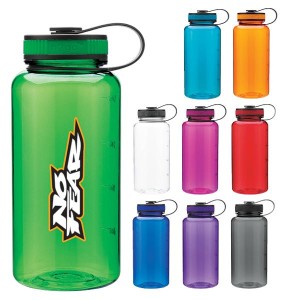 Retail water bottle brands are hotter than ever, and we have seen an increase in clients wanting the trendy look of those bottles with their branding added. That's why, in addition to our three S'well-inspired bottles, we've added the XL Tritan Bottle with Tethered Lid.
The staff member who was testing this bottle said it mysteriously disappeared from her cabinet, only to turn up in nearly unrecognizable form in her college student's bag. You see, this bottle is super popular amongst college-aged students for they love to adhere stickers to the bottle and show off their individuality. Continue reading
By now most of you know what BPA is, or at least that you likely want to avoid it when possible, especially in your water bottles. Good news on that front…all of Bulletin Bottle's products are BPA free (read here for more information).
So, what happens when the factory can't use BPA anymore? What do they do? Well, they use an alternative. One of those (and there are MANY) is commonly referred to as BPS. But let's back up. Continue reading