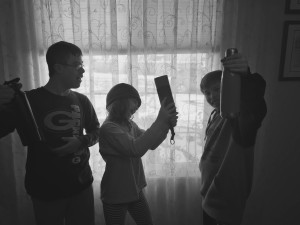 Did you know that wholesale water bottles actually have the power to change your life in ways you might not have imagined?
It's true. We've asked our country's future (aka employee offspring) for their ideas on how our reusable water bottles can be used in ways that adults may not have previously considered. And boy did they have some great ideas!
We suggest heeding the advice of our special contributors, and trying out some of these oft overlooked uses for water bottles. You also may use them at your discretion for ROI justification on your custom bottle project: 
Squirt Gun. Should you choose to buy malleable, BPA-free plastic water bottles (like our kid-friendly Squeeze Water Bottle), you will be pleasantly surprised to find that they double as tools for soaking other people. Simply fill your bottle, aim, and squeeze.
Water Park. Continuing the theme of wet fun, it was suggested that larger water bottles (like our XL Tritan Bottle with Tethered Lid) can be used to transform that boring backyard slide into a slippery ride. Simply bring your full bottle to the top of the slide, dump contents, and head down. You'll get to the bottom faster than ever!
Self-defense. Have you ever lugged a metal water bottle full of water? It can be quite heavy (especially an insulated one, like our Thermal Insulated Water Bottle). But that can be a good thing. While we don't condone violence in any way, if you are in danger…it's heavy…and already in your hand.
Bragging Rights. Like to show off? We have the perfect solution for that! Buy wholesale water bottles for your company, design a sweeeet graphic for said bottles, distribute at your discretion, and keep one for yourself. Then, show it off to anyone who makes eye-contact with you. The bottle is cool, the logo is amazing, and you have a brag-worthy item!
Fortress of Greatness. Gather up your household's supply of water bottles (c'mon…we know you have them stockpiled All. Over. The. Place.—just like we do!) and construct a Lego or Barbie-sized castle of epic proportions!
As we all enter the holiday season, just keep in mind that wholesale water bottles keep on giving too. Oh, and we should probably mention the health benefits of drinking water to stay hydrated and the environmental benefits of choosing to reuse. So there's that.
Happy holidays from all of us at Bulletin Bottle!