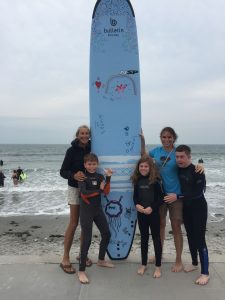 On the third Tuesday in June, July, and August, a huge group of amazing people from all over New England—and beyond–converge on Gooches Beach in Kennebunkport, Maine to share in a magical evening of surfing, support, and love with Special Surfers.
Special Surfers is a nonprofit that provides an opportunity for kids and young adults with special needs (emotional, mental, or physical) to surf in the summer. There is no cost to participants or their families, and all equipment and instruction is provided.
Bulletin Brands staff member Jennifer Christensen has been participating in the event with her son, Jack, since 2012. Jack has Down syndrome, and Special Surfers is a highlight of his summer. While there are many people with Down syndrome surfing, there are literally hundreds of special surfers with many different types of disabilities that participate.
Suzette Bergeron, owner of Bulletin Brands, has a nephew with autism who surfed this August with the program for the first time, and loved it! He can't wait to hit the waves next June!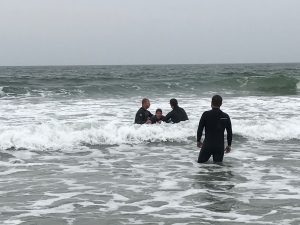 In fact, Suzette was born with a physical disability. Growing up with few—if any—programs for kids with disabilities, she can only imagine what it would have felt like to be given the opportunity to surf. This is one of many reasons Suzette personally feels connected to the organization.
So, when Special Surfers' founder Nanci Boutet posted a need for surfboard donations on Facebook, it didn't take long for us to decide to support the organization at the next level. That's right, Bulletin Brands bought a surfboard!
Once the 11' (yes, that's eleven FEET) board arrived, Jennifer, Suzette, and their kids had a party to decorate the longboard. The kids took artistic license with their designs, meant to shower the rider with stoke!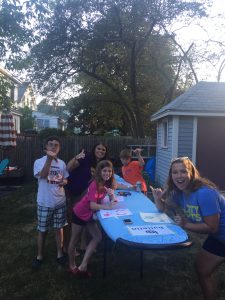 The board made its debut at August's Special Surfers and was tested out by our own Jack Christensen, who gave it two thumbs up. According to Nanci, this board's long length is an important addition to the group's toolkit and will be a key part of the event for years to come.
To learn more, or to donate money, wetsuits, or surfboards to Special Surfers so they can continue their mission, please visit their website. To get some virtual stoke of your own, like Special Surfers on Facebook.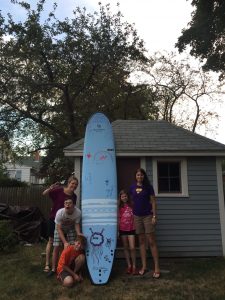 And, if your travels take you to Kennebunkport, Maine on a warm Tuesday afternoon in June, July, or August, come and check this event out for yourself. See if you can spot the Bulletin Brands board. Or, better yet, volunteer your time. You don't need to be a surfer, and you don't even need to get wet. You just need enthusiasm, love, and a desire to impact lives!