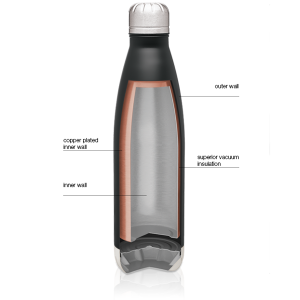 Have you seen our Thermal Insulated Water Bottle? If not, you have to check it out. This one's styled after the uber-popular S'well bottle, making it at once trendy, classic, AND customizable!
Our high-end Thermal Insulated Water Bottle features 18/8 double-wall stainless steel with copper vacuum insulation (a top material choice for thermal bottles). So what? A double-wall bottle serves two primary purposes: 1) to eliminate condensation on the exterior when using cold liquids, and 2) to retain the internal temperature longer (depending on the construction).
There are four types of insulation construction (from least expensive to most):
Air: Air is the insulator between exterior and interior walls
Foam: Foam is the insulator between exterior and interior walls
Vacuum: No air between inner and outer walls
Copper vacuum: No air between inner and outer walls AND the inner wall is copper plated
As you can see, a bottle with copper vacuum insulation is the best—and costliest—type of thermal bottle. But you reap the benefit of choosing our Thermal Insulated Water Bottle—ultimate conductivity! This bottle will keep hot liquids hot for 12 hours, and cold drinks cold for 24!
The ergonomic shoulder shape helps the liquid flow more efficiently and the lid secures a thermal reservoir and inner stopper. Finally, the petaloid base adds strength and reduces shock.
The base and threaded, stainless steel lid is silver across the entire color line. And, speaking of colors…wow! The Thermal Insulated Water Bottle comes in tons of eye-catching colors. From on-trend matte black to high-gloss…we can hardly keep these in stock!
There's just nothing to NOT love about this bottle. We get compliments everywhere we go with this one in our hand. The design is so simple, but it works! Add your organization's logo or messaging, and the result is a classy, fashion-forward, and coveted water bottle.