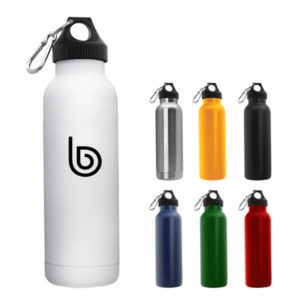 There are a lot of different material options to choose from when deciding on a reusable water bottle. There's plastic, BPA-Free plastic, Tritan, glass, stainless steel, and more. Deciding on a material can be overwhelming! Our site has tons of resources to help you pick out your perfect bottle, but here we will focus on stainless steel water bottles and why this great option is worth looking into for your next bottle!
You may be wondering what exactly stainless steel even is. Well as its name suggests, stainless steel is indeed steel. But unlike regular steel, stainless steel usually is rust resistant. This characteristic depends on the grade and quality of the stainless steel, since it's used in such a wide range of goods. Stainless steel is an alternative to plastic products in a lot of food and beverage items. Stainless steel is great for people who try to avoid plastic in their products and/or are worried about chemicals from plastic leeching into their food. Plus, unlike aluminum bottles, stainless steel water bottles do not require a lining in order to be food safe.
Stainless steel is also a great option for people who are looking for more sustainable water bottles. First off, reusable water bottles in general are a much more sustainable option than the alterative, plastic water bottles! Stainless steel is a great option because it can actually be recycled, unlike some other materials. In addition, stainless steel bottles last a long time and are quite durable. Even though stainless steel water bottles are recyclable, we do not sell recycled stainless steel water bottles because it's impossible to confirm whether or not the steel came into contact with materials that are not food-safe.
We love this Stainless Steel Tumbler because it's a great option when on the go and keeps our drinks hot or cold for hours! It can also be used with or without a straw depending on your preference. It's a fun and fashionable option for your logo!
Another stainless steel bottle that we love is our Insulated Sports Bottle. This classic bottle design is perfect for any occasion! It comes in a variety of colors to make it easily customizable.
Stainless steel water bottles are very popular for all different types of beverage containers and bottles. Bulletin Brands offers a wide range of stainless steel products for your next event, with tons of options to customize. Take a look around all of our stainless steel bottles here!