You may have heard the phrase "BPA-free" a lot, from packaging labels on cans in the grocery store to water bottles you see online. You may be wondering what exactly this means, and why more BPA-free products are hitting the market. Well, look no further because we'll break it down for you here!
BPA refers to a chemical that is used in the production of certain plastics. These plastics are pretty common, and are used in products like water bottles, toys, food storage containers, etc. This chemical has been around for decades, but some studies have found a possible link between BPA and certain health ailments, which prompted the creation of BPA-free products. The FDA has stated that BPA is safe at low levels, but some have chosen to avoid BPA where they can and try to use other types of products instead.
For those looking to avoid BPA in their products, finding other alternatives has become very mainstream, with lots of options to choose from. Bulletin Brands makes it easy to find BPA-free water bottles to purchase! We have a wide variety of BPA-free bottles, along with bottles made from other materials like glass and stainless steel, for those of you looking to avoid plastic altogether.
One of our favorite BPA-Free bottles is our Bike Bottle with Straw. We love this bottle because not only is it BPA-free plastic, but it's also union made in the USA! It has a straw for easy access on the go, and the lids come in a variety of colors for any occasion. Another BPA-free bottle we love is our Sport Bottle with Volume Markers. This is a great bottle to take to the gym or carry while on the go!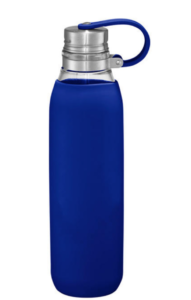 Plastic bottles aren't your thing? We still have you covered! Check out our Glass Bottle with Silicone Tether. This bottle has a stainless-steel lid and silicone tether to keep the lid from getting lost.
We're excited to offer a wide variety of products to meet your needs for almost any occasion! Take a look around and let us know if there's anything we can help you out with!