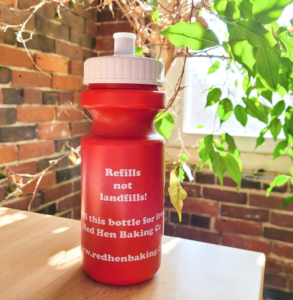 There are a lot of ways to market your organization's message, from social media to traditional networking and everything in between. Half the battle when it comes to marketing is figuring out the right channel to connect with your audience. Promotional products, specifically promotional water bottles, are an incredible tool to utilize when looking to connect and share your message with the world! We could talk about lots of reasons to consider them for your next project, but here are our top three:
They actually work. As a company who specializes in promotional products, we see firsthand how impactful these items are. 88% of consumers recall the advertiser on a promotional product they use, meaning that these items create strong brand awareness without additional time or energy from you. 83% of consumers are more likely to do business with the brand as well. These are astounding numbers that show the opportunity promotional water bottles create!
They are budget friendly. One of the great things about custom promotional products is that there are an infinite number of options for you to choose from. There is something for every budget. And when you're working with Bulletin Bottle, this also means that you don't have to sacrifice on quality to stay within your budget. Custom water bottles allow for immense impact without having to spend top dollar. Our bulk products give you the affordability of warehouse prices!
They showcase your values. Promotional water bottles, and promotional products in general, give you the opportunity to put your money where your mouth is. If sustainability is a pillar of your business, then sustainably sourced bottles made of recycled or natural materials is the way to go. If you preach teamwork and strong culture, then offering your employees a top retail brand bottle or a personalized tumbler is a great way to show them that you care.
Like we mentioned, we could talk all day about the great opportunities that promotional water bottles create for your organization. We see it firsthand every single day with our own clients! Create something unique for your organization and connect with your audience on a whole new level. Our team is standing by to help bring your vision to life!