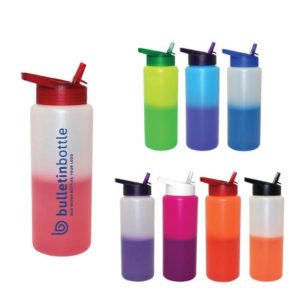 When you're on the go, you don't have time to stop for anything. That includes refilling your water bottle. Jumbo water bottles are the best way to make sure you're staying hydrated during your busy day. The large capacity is perfect for on the go. Don't worry about refilling because you won't need to!
A water bottle with a lot of capacity is great so you can go on with your day. We love using jumbo water bottles on big days where we need to get a lot done. We're going to talk about three of our favorite jumbo water bottles and why you need them! Read along because you don't want to miss this!
Our Large Sports Bottle is perfect for any job! This bottle holds 32 oz. of liquid and comes in a wide variety of bottle and lid colors. Big bottles like this are great for school or sports events since this bottle is approved for children 3+. The push-pull cap is easy to use at any age. This bottle is also union made in the USA and has a great imprint area for your full color design!
If you want an option that is fun and unique, we suggest our Color Changing Sport Bottle with Straw. This bottle will change color when cold water is put inside! It holds 32 oz. and is something that you don't normally see in a water bottle. We love the fun features that make this bottle great. This bottle is perfect for a big event or getaway where you just want to have some fun! This bottle is made in the USA and can print your design or logo in full color.
Finally, we're going to talk about our h2go Surge Aluminum Bottle. This 28 oz. bottle has so many bright colors to choose from, and the threaded snap-fit lid will keep your liquid from spilling. The aluminum material of this bottle is strong and sleek. Full color printing will help get your brand out there to people who might not have known you before. We love this bottle for traveling or anything on the go. The lid also has a carry handle which is great for easy grabbing!
Jumbo water bottles are the best option for big jobs! Their large capacity means less trips to the water fountain so you can focus on the things you need to. There is also a wide variety of jumbo water bottles to chose from. Don't choose between hydration and motivation, you can get the best of both worlds with jumbo water bottles!