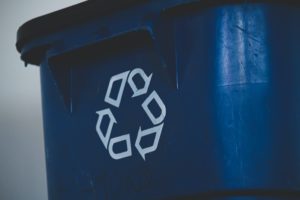 November 15th is National Recycling Day! Each year millions of people across the United States take part in this awesome holiday! This day is meant to bring awareness to the importance of recycling and buying recycled products. The average American sends 64 tons of waste to landfills during their lifetime, so we know how important recycling is! What better day to highlight your custom reusable water bottles on than this one! Reusable water bottles are a great way to celebrate this holiday and highlight sustainability within your organization.
Reusable water bottles not only are great canvases for your marketing message, but they genuinely make a difference in the push to eliminate single-use plastic bottles. Whether you position your brand as an eco-conscious one or not, prioritizing reusable water bottles in the office or at events sends an important message to your audience. It shows that you care about what's going on in the world and are willing to do your part, no matter how small. A lot of people prefer to do business with brands that prioritize this …it's a win-win!
Plus, investing in custom reusable water bottles doesn't have to break the bank. No matter your budget, we have a selection of bulk water bottles that can meet your project's needs. From stainless steel tumblers to recycled plastic sports bottles, we can help you find the perfect drinkware item. Reusable items are a simple but impactful tool that we can utilize to be more sustainable. Opting for one of these bottles instead of a single-use plastic bottle can make a world of difference.
If you've been looking for an opportunity to launch your promotional products, or to highlight the ones you already have, National Recycling Day might be the perfect one! Remind your audience to reach for a reusable option, and when they do have to throw something away, make sure to recycle it. There are so many related topics to discuss on a holiday like this one, things like recycling education, sustainable product swaps, and different reusable materials are just a few. Take this opportunity to come up with creative content and unique reusable water bottles to share with the world!