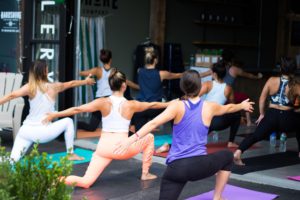 Gyms, yoga studios, fitness centers, and more are just a few of the many businesses that we work with to help create custom water bottles for their audiences. Fitness and wellness brands have so many opportunities when it comes to promotional products. Their audience uses a lot of equipment on a daily basis, so offering them something they'll love and use daily is a great way to connect with them and market your brand. Reusable water bottles, gym bags, workout equipment, and apparel are just a few ideas of relevant promotional products that would be perfect for this industry. We have lots of custom water bottles that are perfect for fitness brands. So let's highlight a few!
Giant Sports Water Jug – This water jug holds a huge 75oz capacity, making it perfect for long workout classes or a day on the go. Carry it around the gym with ease thanks to the built-in carrying handle and its wide mouth allows for adding ice …perfect for when you need something cold and refreshing after a workout!
Flip Straw Sports Bottle – This bottle is made of Tritan copolyester material, making it super sturdy and durable. The straw lid is perfect for exercising! It's an easy flip-up straw that you can access easily with one hand while walking, running, or driving. This bottle looks and performs like metal for a fraction of the price!
Smooth Tritan Carabiner Bottle – Another Tritan bottle that's built to last and hold up during your workouts! It features a sporty look with a smooth outer coating. The carabiner clip means you can easily attach it to your duffel bag while traveling to and from the yoga studio!
These bottles come in a variety of colors, so you can choose the perfect style and design that will showcase your brand's unique identity. Shop all our bottles here by clicking on the category you're most interested in! We truly have something for everyone, and our team is standing by to help you create the perfect custom water bottle, or any drinkware for that matter!