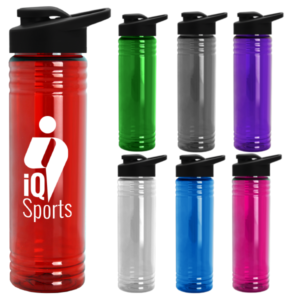 Plastic water bottles are awesome since they are so versatile and relatively inexpensive. You can bring them to any event and the large variety of sizes allows you to find the perfect match. Our custom BPA free water bottles come in so many sizes, styles, and colors! We have several options for plastic material, all which are BPA free too. We know you'll find the perfect bottle for you.
BPA is also called bisphenol A. This chemical is used in production of some plastics and resins. There is a controversy around the effects that BPA has on human health. At Bulletin Brands, all our plastic water bottles are BPA free and safe for use.
When you're looking at BPA free water bottles, try looking at our Slender Translucent Bottle With Flip Lid. This bottle is made in the USA which is great for supporting our nation's workforce. We love that there are so many color options for the bottle and the lid. You can match any lid with any bottle for endless fun combinations. This bottle is also available with full color printing to help get your message across.
If you're looking for something more eco-friendly, try our Recycled Water Bottle With Leash. This water bottle is made from 100% post-consumer recycled PETE. We love that this bottle is also made in the USA and can be printed in full color. It features a snap close drinking spout, and leash which makes it easy to carry this bottle around wherever you need to go. We love these bottles for outdoor events and big projects.
When you need something with a sleeker design, one of our top picks is our Twist Tumbler. This tumbler is great when you need something that is aesthetically pleasing!. We love the double wall construction since it keeps the condensation off our hands! The straw is easy to use, but you can also use this tumbler without it.
Custom BPA free water bottles can be the star of your summer. They come in so many shapes and designs, it's hard to pick a favorite. Let us help you narrow down the choice and find the perfect bottle for you!