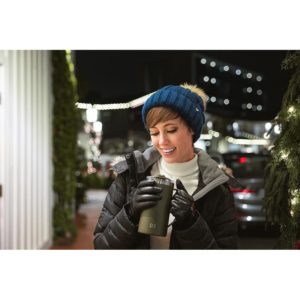 It's more important than ever to find new ways to connect with employees and retain top talent. Creating a strong company culture that employees will value and want to stay with is a tough job! But it's doable with the right tools, values, and vision for your organization. One way to cultivate good culture and relationships in your organization is with custom company merch and promo products. This is not a new idea or way of doing things, but the promotional products themselves are always changing which leaves a lot of room for creativity!
What's most important when deciding on custom merch for your team, is finding items that are practical for their daily lives. Or in other words, things they'll actually want to use. Gone are the days of cheap items with no practical meaning. If you want your employees to invest in you, then you need to show them that you're ready to invest in them. That means high quality items that they'll be proud to wear and use in their daily lives. Let's take a look at some great ideas from our Bulletin Bottle and Bulletin Basics sites!
Hydro Flask Wide Mouth with Flex Cap – A brand name that everyone knows and loves, with a high-end reputation and quality products. Everyone is excited when they receive a bottle like this! Maintain an elevated look with laser engraving your logo or company design onto the bottle.
Takeya Originals 18oz Insulated Water Bottle – Another great brand name that will get your team excited! These high-end bottles are classy and sleek, and perfect for adding your custom design to. High quality water bottles like these send an encouraging message to your employees to get active, stay hydrated, and have fun!
The North Face Mens ThermoBall Trekker Vest – Another elevated retail brand that everyone loves to see! High quality pieces like these are perfect for big celebrations, corporate parties, milestones, and more. Create some team spirit with matching vests that your employees will be proud to wear around town!
Gildan Mens Heavy Blend Crewneck Sweatshirt – You can't go wrong with a classic crewneck sweatshirt! This style says mens but is perfect for anyone! Add your company logo or design to make it your own. Plus it comes in a wide range of sizes, perfect for team environments! Something cozy and practical regardless of your industry.
Igloo Repreve Vertical Backpack Cooler – Not only is this bag made by a well-loved retail brand, but it has incredible features that make it a unique and meaningful employee gift. Repreve is a unique fiber created from recycled, post-consumer plastic. We love this sustainable and elevated bag!
NAYAD Thermal Travel Mug – Is your team a bunch of coffee lovers? A high-quality travel mug is a great idea for custom merch then. Whether you have a big work trip coming up or a class of new hires is starting at the office, these make great gifts to get started on the right foot.
These are only a few of the many different products we have available across our three sites that are perfect for employee gifts. Don't underestimate custom merch!