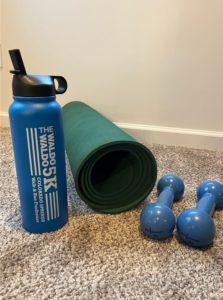 We know the hype surrounding the Hydro Flask bottles and trust us …. we get it! The sleek design, the unbeatable insulation for your drinks, and convenience of taking it everywhere; it's hard to match! We love those bottles so much that we even added one to our website for our clients. But we know that these beloved water bottles aren't in everyone's budget. And we don't think you should have to sacrifice your vision because of the price tag. The good news is that you don't have to. Cue: Large Insulated Sports Bottle with Straw Lid.
Think of everything you love about a Hydro Flask bottle, minus the high price tag! This bottle has a large capacity, so you don't have to refill it 100 times a day, plus it has a vacuum-insulated, double-wall stainless steel insulation to keep your drinks cold no matter the weather. Members of our team have tried this bottle, and it quickly became a staff favorite. The finger loop makes it so easy for carrying or attaching to a backpack. It fits into the mesh pockets on the side of most backpacks, and the straw makes it easy to stay hydrated all day. The insulated bottle keeps warm for up to 12 hours and cold for up to 24 hours! Yes …you'll notice that's the same amount of time as the Hydro Flask bottle!
It's durable, convenient, and not to mention it comes in fun colors too. We love this bottle for hiking, working out, running errands, or working from home. It's less than half the price of a Hydro Flask bottle without compromising any of the amazing features or quality. Plus, this bottle has a straw which is a feature we really love. It makes it perfect for school sports, classrooms, gyms and more by minimizing spills and makes hydration easy!
Feel free to reach out to our team with any questions you have about either of these bottles, or any other bottles you see on our site. From a Hydro Flask bottle to a simple squeeze bottle, we have you covered.