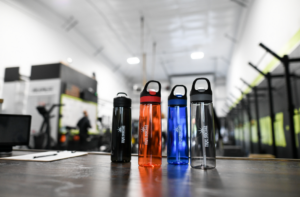 If you're thinking about purchasing custom water bottles with your own logo or design on it, you might have a lot of questions! One of them being: how much do custom water bottles cost anyway? One quick Google search will tell you: the cost of these items varies quite a bit! The most significant factor that affects the price: the material your bottle is made with!
Stainless Steel
Stainless steel water bottles are renowned for their durability and longevity. They can withstand rough handling, are resistant to corrosion, and are an excellent choice for both hot and cold beverages. However, their robust construction comes at a higher cost. The price of stainless steel water bottles is higher due to the materials used and the manufacturing processes involved. The quality of stainless steel can vary, affecting the final price as well. High-quality food-grade stainless steel, such as 18/8 or 18/10, is generally more expensive.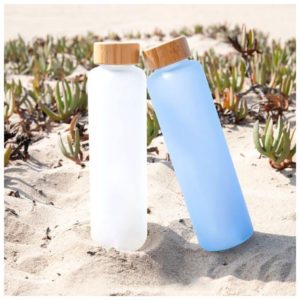 Glass
Glass water bottles are known for their purity and lack of chemical leaching, making them a top choice for those who prioritize taste and health. They are also visually appealing and can be an eco-friendly choice if they are made from recycled glass. However, the cost of manufacturing, packaging, and transportation can make glass reusable bottles relatively expensive compared to other materials.
BPA-Free Plastic
Plastic reusable water bottles, including those made from high-quality, BPA-free plastics, tend to be more affordable than stainless steel or glass alternatives. The lower cost of plastic production, along with its lightweight nature, makes it a budget-friendly option for many consumers. However, it's crucial to exercise caution when choosing plastic bottles, as some may still contain harmful chemicals or degrade over time, affecting the taste and safety of your beverages. We take safety very seriously at Bulletin Brands. Read more about our policies here.
Aluminum
Aluminum water bottles offer a lightweight, cost-effective alternative to stainless steel. They are often used in sports and outdoor settings due to their portability and durability. The cost of aluminum bottles is influenced by the quality of the aluminum alloy used and any additional features, such as insulation or coatings. Like stainless steel, higher-quality aluminum bottles will typically come at a higher price.
Bamboo
Bamboo water bottles represent a sustainable and eco-friendly choice. They are made from renewable bamboo resources and often feature a stylish and natural aesthetic. While the raw materials themselves may not be costly, the craftsmanship required to shape and seal bamboo into a functional water bottle can result in a higher price tag.
When it comes to reusable water bottles, the old adage "you get what you pay for" often holds true. The varying costs of these bottles are primarily attributed to the materials used, their quality, and the manufacturing processes involved. While budget-friendly options are available, investing in a high-quality reusable water bottle can offer long-term savings by reducing the need for disposable bottles and promoting sustainability. Ultimately, the choice of material and price point should align with your priorities, whether that be durability, purity, sustainability, or affordability. By understanding the differing costs of reusable water bottle materials, you can make an informed decision that not only benefits your wallet but also contributes to a greener, more sustainable future!