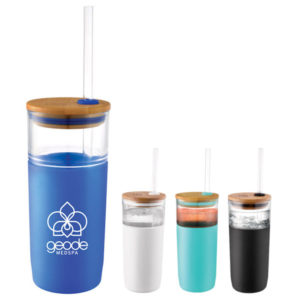 Sometimes you want to feel fancy and elevated. While we want to spend an arm and a leg on a fancy dinner or day at the spa, we must find other options. Glass tumblers and bottles are a great way to feel fancy without spending tons of money. The glass material is sleek and brings some elegance to the table.
One of the most important parts of glass tumblers are the lids. Glass tumblers and bottles can have a straw or a regular lid. It all depends on the project you have coming up and what you like best! No matter which type of bottle you want we can help you find a great fit.
Sipping your morning coffee or tea out of glass tumblers gives a little boost to your day. Afterall if you look good you feel good! We always reach for our Glass Tumbler with Bamboo Lid when we need a great tumbler. This tumbler holds 20 oz. and features a silicone sleeve with a non-slip bottom which is soft to the touch. We love that the push-on lid is bamboo and the Tritan straw fits perfectly inside!
If you're looking for something that keeps it more casual but still has the aesthetic that glass tumblers and bottles give off, we think our Glass Bottle with Push Button Lid is perfect! This 20 oz. bottle is great for cold beverages and will display your logo or design in full color. The lid crews on and has a push-button that protects the flip open spout. The flip spout is a fun touch to this glass bottle!
Having glass tumblers is great but doesn't usually have a lot of color. If you want a glass bottle that maximizes on color grab our h2go Two Tone Glass Water Bottle. This bottle holds 18 oz. and is covered by a silicone sleeve with a wide variety of color options. The lid is two toned, so it features the bottle color you chose and a white inside. If you don't want all the color but you love the bottle you can also get this bottle without the silicone sleeve!
We love the elevated touch that glass tumblers and bottles add to our everyday life. While it's not something big, it makes a big impact as a gift or item for customers! They're perfect for any event or project and will make your brand stand out and get noticed.