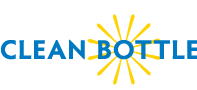 Have you heard of Clean Bottle? The company was recently a successful recipient of funding on Shark Tank. NBA legend Bill Walton dressed up as a giant water bottle to woo the venture capitalists. No? Well, the Clean Bottle water bottle is a super cool new water bottle, and Bulletin Bottle [.com] is happy to announce we now have it available for imprinting with your logo.
The idea for Clean Bottle came to the founder on a bike ride, when he discovered mold, stink, and funk all over the bottom inside of his plastic water bottle. He threw it away because he couldn't clean it out. Then…the idea! Why not have a bottle that unscrews at the top and the bottom? So that's what they made. A simple, BPA-free plastic water bottle with an ingenious design. Even better? Clean Bottle donates 10% of profits to eco and cycling friendly charities.
Check out Bottle Boy at the Tour de France:
Shark Tank is s a critically acclaimed show that gives budding entrepreneurs the chance to make a business deal with one of five "Sharks", self-made multi-millionaires and billionaires. The entrepreneurs try to convince the panel to give them the funding they desperately need to jumpstart their business ideas. In exchange for the cash investment, the entrepreneurs give up a percentage of their companies' equity. In the case of Clean Bottle, Mark Cuban invested $60,000 in return for a 8% stake. To watch the Clean Bottle episode, click here.