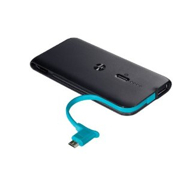 Motorola has developed a universal battery pack that uses recycled plastic water bottles. That's right, 25% of its P793 charger's external housing is comprised of recycled post-consumer water bottles!
We hope you're using reusable plastic water bottles, but if you DO happen to have a pesky disposable bottle laying around, be sure to properly recycle it so as to give it a chance help keep your battery from dying! Yes, it might be a long shot, but it's pretty cool to think about.
The more recycled plastics are used by manufacturers,  the less virgin plastic material that gets produced. That translates to less toxins going into the air and into the ground, and a cleaner, greener environment as a result. But, if everyone used reusable water bottles, this would be a nonissue to begin with!
For more information about the charger, visit Motorola's web site.