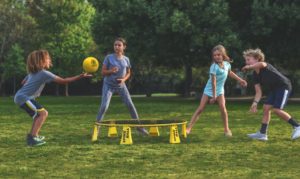 Team water bottles are a great way to showcase some team spirit and engage with players and fans alike! This summer, put your team's logo, mascot, and other personalized details on kids water bottles for the whole team! Bulletin Bottle has lots of water bottles that have undergone testing to ensure they are safe for children. Learn more about some of our favorites below!
Before we get into why we love these kid-safe water bottles, learn more about the different testing requirements here. Safety is our top priority here at Bulletin Brands, and you can rest easy knowing we've hand selected bottles that are perfect for the whole family!
Camelbak Eddy+ 25oz Bottle – this name-brand bottle is a great option for summer sports. We love water bottles that have straws for sports. It keeps spilling to a minimum when on the go, in between games, storing it in a backpack, and more. This bottle comes in some fun colors that are perfect for showing team spirit! It has a one finger carry handle which is great when you've got a lot of sports gear to carry!
Squeeze Water Bottle – this bottle is not only kid-safe, but it's BPA free and cost effective too! It's perfect for team fundraisers or events and comes in a wide variety of lid and bottle colors. It's your classic sports bottle! We love that's made here in the USA.
Small Traditional Water Bottle – a traditional water bottle that's small enough to fit into almost any backpack or bag! It holds 18oz so it's perfect for smaller kids and the handle makes it easy for them to carry! It comes in fun, bright colors to showcase your favorite team this summer!
Slender Translucent Bottle with Flip Lid – this bottle's slender design is great for fitting in the car cup holders, on the bottle holders of backpacks, and just carrying around on the go! The flip up top makes staying hydrated during the big game easy. Check out the bright, translucent color options for your team!
We have lots of kids water bottles that are safe, fun, and easy to take with them to the field this summer. Keep the team hydrated with unique custom water bottles! Our Bulletin Bottle team is here to help you find the perfect bottle for your organization. Reach out today!