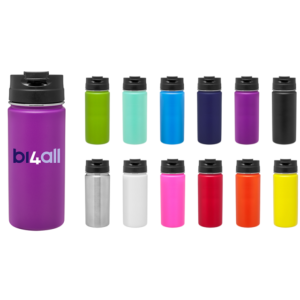 At Bulletin Bottle we have a wide variety of water bottles to fit any occasion. We hand select every single bottle that you see on our site, so you know that these bottles are tried and true! We love finding the best bottles on the market and putting them all in one place for our clients to browse through. One of our favorite collections of bottles are the H2Go bottles series. There are over a dozen H2Go bottles on our site, but we want to highlight a few popular ones that we love! These bottles have been researched and tested by our team here at Bulletin Bottle, and we can't wait for you to try them as well!
Let's take a look at the Medium H2Go Nexus Thermal Tumbler. This tumbler is perfect for so many different events and occasions. It holds a full 16 ounces, so it can be used for morning coffee or tea, summer cocktails, or simply holding water on a hot day. It's constructed with double-wall 18/8 stainless steel and has copper vacuum insulation. Plus, it comes in lots of different bright, fun color options! This is an overall winner in our book. Looking for something bigger? We also have the Large H2Go Nexus Thermal Tumbler that holds 20 ounces. Perfect for long days on the go!
Next, let's check out the H2Go Silo Thermal Tumbler! This bottle is sleek and slender with a high perceived value and beautiful cool-tone color options. Like the other H2Go bottles, it is double-walled 18/8 stainless steel with copper vacuum insulation. Even the lid on this bottle is insulated! This is a trendy bottle option that's sure to make your logo pop.
Last but not least, we love this Thermal Insulated Water Bottle H2Go Force! This bottle has the trendy design of other retail brands, giving it a high end look and feel! It is double-walled 18/8 stainless steel with a copper vacuum insulated and has a threaded stainless-steel lid! It keeps hot liquid hot for 12 hours and cold liquids cold for 24 hours!
These are just a few of the amazing H2Go bottles we have available on our website. Shop H2Go bottles here. Our team is standing by to help answer any of your questions!