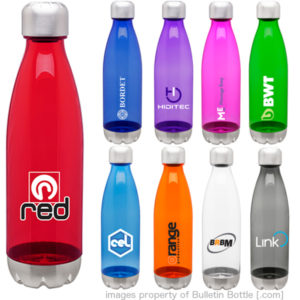 Are you poking around different sites for bulk water bottles? Are your eyes glazing over by all the options? They all look the same after a while, don't they?
You're not alone in that thought! Did you know there are over 300,000 items that are sold specifically for logo branding, and water bottles hold a fair share of that crazy-overwhelming market? Sure, you can sort through 300,000 products to find juu-ust the right one for your marketing efforts (hey, more power to ya!) but doesn't it sound much less stressful to let our team of merchandisers (with combined industry experience of over 25 years) curate the best options for bulk water bottle projects?
Well, great! In that case, we're glad you're here. We have evaluated trends, longevity, materials, and durability of all kinds of water bottles and have sourced a hand-picked, manageable offering of custom water bottles just waiting for your messaging. Your marketing project just got a little easier (you're welcome).
Through industry tradeshows and strong supplier relationships, Bulletin Bottle brings you the best of the best in each bottle category, at price points to meet nearly any budget. Maybe not the "free" budget. We're working on it, but it's not looking good. Sorry.
What makes our bulk water bottles the best? Ooh, ooh, ooh…we know this! Wide color selection, durable products, quality printing, rush capabilities, friendly staff, social compliance, CPSIA and product safety training, nonprofit and reseller discounts, friendly staff, and our trust in the factories that value social responsibility as much as we do. And did we mention our awesome, friendly staff? 'Cause we are. So see for yourself…let us narrow down the products and make your life (well, your project at least) easier!