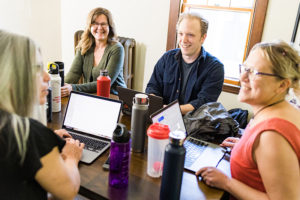 When shopping for bulk water bottles, most of the options out there are large corporations or factories that provide bulk orders for cheap prices. While this situation may be good for your budget, you may be wondering what other options are out there in hopes of finding something more in line with your values. The good news is that shopping with a small business doesn't always mean you'll be breaking the bank. In fact, you'll be happy to know that with Bulletin Brands, you get the affordability of warehouse prices but with the reliability of working with a small business!
There's a lot of reasons why shopping with a small business is worth it. You may be wanting to support your local entrepreneurs and local economy in your area. Or maybe don't want your dollar supporting large corporations with unethical practices or unsustainable choices. Whatever your reasoning may be, choosing to work with a small business is beneficial for all parties! We know we might be bias, but with a small business you know your order is appreciated and valued.
There's a lot of different custom water bottles to browse through when shopping for your bulk water bottles, and it can be difficult to figure out which ones are best for your organization. We are experts on the products that we sell on our site, which means we can provide you with details and background information on the bottles so you can make an informed decision. Plus, we have a team of experts that can help point you in the right direction, recommend products for your desired goals, and offer advice on designs. Another great benefit of shopping small: personalized service with a real human on the other end! No long waits in a customer service queue or dealing with a robot on the other end of the phone. Our team of 6 incredible people are the ones to pick up your call or answer your email.
We could go on and on about why we love supporting small businesses, and how as a small business ourselves we understand how important it is! Check out one of our other blog posts highlighting this here. For all of your bulk water bottles and other promotional products, we're here to help!