We have a wide range of reusable water bottles from the popular h2go series, and the Jolt bottle is one of our newest additions! It comes in a wide range of fun colors, and it has some unique product features that are perfect for the summer months ahead. Our Marketing Manager, Ashley, got to test out the Jolt for herself the last few weeks, so let's hear what she has to say about it! Don't forget, we don't sell anything on our site that our team hasn't personally tested themselves. So, if you want our honest review on any product you see, just let us know!
I received the h2go Jolt as a sample from one of our recent client projects. It comes in the h2go branded box that has an upscale look along with some great product information! After taking it out from the box, I first noticed the awesome lid and beautiful white color! Every bottle I've tried from the h2go series has been wonderful, and I had a feeling this would be no different. (Spoiler alert: I was right!)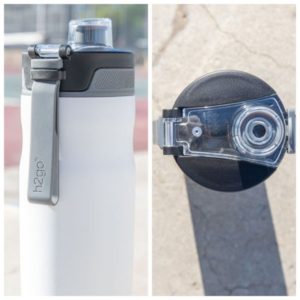 This insulated bottle keeps my water ice cold and is perfect for taking on my walks. No matter how hot or sunny, I've got refreshing cold water throughout my entire walk! The carrying handle makes it easy to carry with me while I'm walking, and it's easy to throw in my backpack or purse when I'm on the run. It's drinking spout is keep me from spilling on myself if I'm sipping while walking, which is great for when I'm in a hurry or getting some exercise!
Overall, I like this bottle a lot and I think it's great for outdoor brands, fitness brands, or simply anyone wanting to promote hydration and healthy habits! The colors options are so fun, although I can only personally speak to the white …it's beautiful in person! Our client's logo looked stellar on there. (View picture)
Our team is happy to chat with you about any of our products and give you our personal testimonies, so reach out today! Or order a free sample of any of our products to try them out for yourself!