We know it's only March and we all have our sights set on spring coming up, but before we know it summer will be on the horizon! With that comes a whole new set of marketing campaigns and ideas to implement, meaning it's important to pick out a promotional water bottle that is trendy, stylish, practical, and aligns with your brand to help get your message across. Our team here at Bulletin Brands has done our research, we know the trends, and we have decades of experience in promotional products to help us cultivate a list of the best water bottles we think are perfect for summer 2023! Check out the full list below:
Koozie 3-in-1 Insulated Tumbler – We love this tumbler for summertime because it can turn from an insulated tumbler for your iced coffee, to a Koozie for your beer in the evening! Whether you have a long day by the pool planned or are running some errands …this is an instant favorite for the warm weather!
H2go Conquer Insulated Bottle – We love this bottle for a lot of reasons, but one of those reasons is the unique color options! The bright colors are perfect for summer promo campaigns. Add it to your favorite beach tote bag along with your sunglasses and a good book and you've got everything you need for a summer in the sun!
Color Changing Stackable Beer Mug – We know these aren't *technically* water bottles, but they are perfect for summer parties, picnics, reunions, or a fun group day at the beach! They are reusable plastic, so you don't have to worry about breakage during games, and they're easy to store thanks to their stackable features! Everything about these beer mugs from the colors to the design conveys a fun time!
Stainless Steel Insulated Growler – An insulated growler is essential in the summertime! Whether you're filling it with ice-cold water for a soccer game, or your favorite beer from your local brewery, they are perfect for keeping it nice and cold.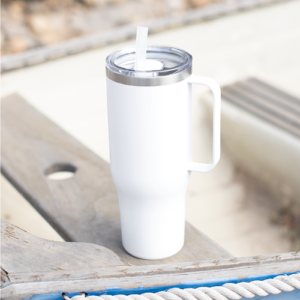 Insulated Tumbler with Silicone Straw and Handle – We've seen the Stanley tumblers all over the place lately, and this tumbler conveys a similar design and style but without the price tag and with the ability to customize! This trendy tumbler is perfect for so many occasions all summer long!
Hydro Flask Wide Mouth with Flex Cap – The brand name we all know and love! Perfect for hikes, outdoor trips, beach days, running errands, and everything in between. Personalize it and get ready for your audience to fall in love with this bottle!
These are some of our favorites for summer 2023. The truth is, the best water bottles for summer are the ones you think your audience will love and use the most! Our team is here to help you pick the perfect one for your next project!