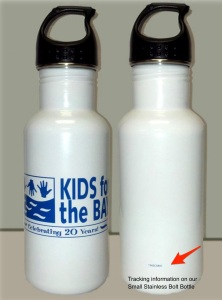 If you're shopping for water bottles for kids, you may have read our FAQ on CPSIA and child-safety.
If you're still questioning why we need to put tracking information on your bottles, though, read on.
Today, 178,000 water bottles were recalled by Zak Designs. The inner plastic straw in the cap can break and pose a choking hazard. Seven children reported plastic fragments in their mouths while using these bottles.
So what does this mean for you? Well, in the unlikely event that one of our water bottles is recalled, the tracking makes it easy for the recipient of your bottles to determine if theirs is involved. Plus, it's the law!
Not all water bottles are created equally. You may purchase water bottles for kids from us, and a bottle that looks just like it could be recalled. However, just because the bottles look the same doesn't mean yours are included in the recall. The CPSIA tracking identification can provide peace of mind to you and those using your bottles.
Safety continues to be paramount at Bulletin Bottle. If you have any questions about water bottles for kids—whether you bought them from us or not—please reach out and ask! We will do our best to help.
If you're concerned that you have a Zak Designs that has been recalled (these were sold exclusively at Target), please click here for more information.