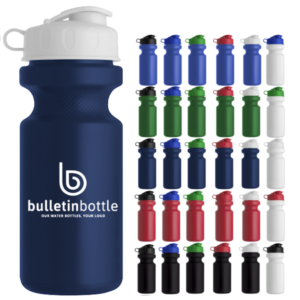 Kid-safe water bottles are different than our other bottles. Why?
Safety is a top concern when looking for kid's water bottles, and it's one of ours too. Kid-safe water bottles get rigorously tested to make sure they are safe for your children to use. All water bottles get tested, but kid-safe water bottles get extra emphasis to make sure there are no choking hazards. Keeping kids safe is one of our main concerns, so we work with you to make sure you're getting the correct water bottle for your next upcoming event. We also follow rigorous testing requirements so everyone can have fun without worrying.
The Consumer Product Safety Improvement Act (CPSIA) ensures the safety of all products, but they give special attention to kid-safe water bottles. This act makes sure that kid-safe water bottles are truly safe for kids. CPSIA breaks down four age grades and tests water bottles by the standards of each group. We take CPSIA very seriously, and we won't sell you bottles that haven't gone through CPSIA testing if you're looking for kid-safe water bottles.
We're going to talk about the best kid-safe water bottles for your specific age group. Each age group has different requirements for kids' safety so let's talk about them and help you find the right fit. Below you'll find the four age grades and some great bottles approved for kids. Cute and functional! Continue reading →