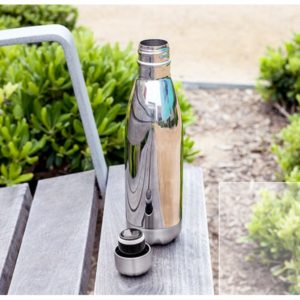 Cutting down on plastic waste is a lifestyle change that a lot of people have been adopting. Wanting to be more eco-friendly is important to everyone, and metal water bottles help achieve this goal. Custom metal water bottles are everywhere and will never go out of fashion.
With the school year starting, a reusable option helps cut down on plastic waste and germs. Custom metal water bottles also have a wide variety, so you're bound to find something you like. So when you're looking for a good metal bottle, what do you look for? Here are our top 4 things to look for when finding a metal water bottle.
1. Material
Metal is a strong and durable material, so it makes sense that you would want a bottle made of this material. But what type of metal? Aluminum is one option you can choose, which is light and easy to clean. Aluminum bottles are usually lined on the inside to stop any reactions liquids might have with aluminum. Our other metal material is stainless steel. We love this material because they don't have to be lined and are just as strong. If you want to know more about bottle materials, read our blog post here.
2. Capacity
Custom metal water bottles come in a wide range of sizes, from small tumblers to large bottles. Bottles like our Small H2go Nexus Thermal Tumbler are as small as 8 oz. capacity but can also come in a medium (16 oz.) or large (20 oz.) size. We love that there are various sizes so you can have a bottle for any occasion!
3. Insulation or No Insulation
To insulate or to not insulate. That is the question! Insulated bottles are great since they increase the longevity of your cold or hot drinks, and they don't leave condensation on the outside. They do cost more money however, so if you're on a budget, single-walled bottles might make more sense.
4. Design
So you found that perfect bottle, now you need to place your logo or design. Full color printing is the best way to display a vibrant logo or design. This is because full color printing allows you to have every color you want on your bottle. Depending on the bottle, the imprint size also changes. Our Thermal Insulated Water Bottle H2go Force is perfect for displaying your logo or design in full color! This bottle also meets CPSIA and FDA testing requirements for children ages 3+. That makes this bottle perfect for school days or after school events!
Custom metal water bottles help make day to day life easier. Having a bottle that is reusable also helps the environment! They are also fun and functional for all your needs. We love custom metal water bottles and we will help you find the perfect match!