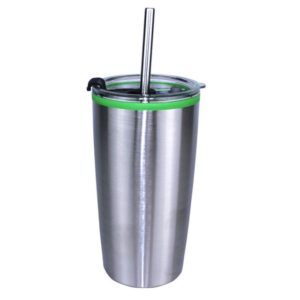 While the summer might be over, the heat isn't! We've been keeping cool by dipping in the pool or having a beach day. Another way we like to keep cool is with insulated bottles. One bottle that we have been loving is our Banded Tumbler with Stainless Straw!
Our Banded Tumbler with Stainless Straw is a perfect way to keep cool and hydrated! This bottle holds 20 oz. of liquid and will keep your drinks hot or cold. We love that it also combats condensation and keeps the "sweat" off your hands!
The bottle is mainly a stainless steel color but has a plastic band on the top that holds a pop of color! Our staffer Mary says "I like that the whole bottle isn't one whole color. The stainless steel look is sleek and easy to match with outfits!". This also helps your logo or design stand out against the stainless background.
Mary used this bottle for a week during work and she loved every second of it! "This bottle was perfect for holding my coffee all week. I love that the lid of this bottle has a spot specifically for your straw that way you don't hear the straw clink against the bottle during the day. If I wanted to switch out the straw there's also a covered spout which you can drink out of.".
The lid has a spot for the stainless straw and a specific spot to hold your straw in. It also has a rubber stopper for days when you don't want to use the straw and would rather use the spout. The spout itself has a push lid to keep it covered when not in use. We love the versatility of this bottle and the multi-ways that you can sip!
Our Banded Tumbler with Stainless Straw is a super bottle. The sleek look of the stainless steel body and straw help give it a day to day look! The straw and spout combo give you options for the day and the plastic band brings a pop of color to help keep things fun.