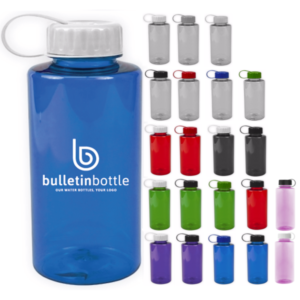 Bulk water bottles are the ultimate addition to any project or event you might have around the corner. Buying water bottles in bulk helps you save money while also putting a smile on everyone's face. Reusable water bottles are always handy to have and can work for any type of environment!
Rain or shine your event will be a hit with bulk water bottles. We have the perfect water bottle for any theme or idea you have. Reusable water bottles come in all shapes and sizes, so the perfect bottle will always be available. The hard part is finding it! We're going to help you find perfect bulk water bottles for any type of project or event you have planned.
School Events
Since we're back in the school spirit a perfect gift is a water bottle! Every age group can benefit from a water bottle, from elementary to university. Our Jumbo Tethered Water Bottle is perfect for school events. This bottle holds 32 oz. and is customizable from bottle to lid. You can mix and match the lid colors which adds a thoughtful and fun touch! This USA made Tritan bottle has a full color imprint area so you can maximize your logo or designs amazing colors.
Parties and Projects
Having a big event or corporate party is always a fun way to connect with everyone, clients, and coworkers. It's always nice to leave an event with a gift to remember your company by, and bulk water bottles are always a great parting gift. We love our H2go Manhattan Insulated Bottle. This bottle has the same shape as a cocktail shaker, which gives it an elegant look. This 20.9 oz. bottle also features copper vacuum insulation which helps add to the quality and useability of this bottle.
Outdoor Geared
If you're leaning towards bulk water bottles that are more suited for outdoor activities or events, then you're in luck! Reusable bottles are the ultimate outdoor accessory since they provide essential function and purpose. One of our favorite bottles for the outdoors is our Tritan COB Lantern Bottle. This 27 oz. bottle features an integrated COB light! You can use it as an interior or exterior light and has a micro USB cable to recharge it. The rope handle has a twist cap so you can strap it around a backpack or belt loop for hands free carrying.
Having bulk water bottles at your next event or project will be a bonus addition that everyone will love. With so many styles, materials, and sizes that bottles come in, you'll never be bored.