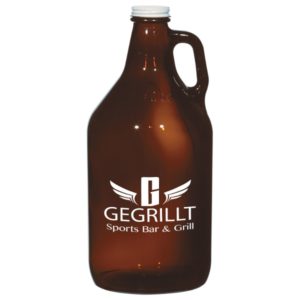 You might notice your town's old brewery or new local hotspot offering selections of their beer in custom growlers. These fun containers are popular at craft breweries for their easy transportation, environmental friendliness, and convenience of being able to bring home your favorite beer straight from the brewery (depending on your state). They come in different styles and materials, which allows them to be a great customizable piece for any brewery.
A custom growler is a fun alternative to bring to your weekend outing or to enjoy in the comfort of your own home. They have quickly become a popular item at local breweries with different variations depending on where you go. Our selection of custom amber growlers would make a perfect addition to your brewery!
When you're choosing custom growlers there are glass, stainless steel, or ceramic options, each with their own pros and cons. However, the most important thing is making sure your beer stays fresh whenever you choose to enjoy it. Nobody likes a flat beer, and our amber-tinted glass helps keep sunlight out which will keep your beer fresher for longer.
Not only are they great at holding beer but they look pretty while doing it! They'll make a great talking point at any event and be the highlight of the day! Our 32oz and 64oz containers are USA-made and feature a neck handle and twist off lid which only adds to the charm and ease of these great alternatives to cans and bottles.
To add to convenience, we also have two growler bag options made to hold your bottles. These bags are a great addition that will put a smile on your face. They're also great for carrying any other beverages you want to bring with you. Both bags are insulated and feature a front slip pocket with adjustable straps. Our insulated barrel tote is perfect for your 64oz bottle. If one bottles not enough for you then check out our insulated growler bag, which can hold two!