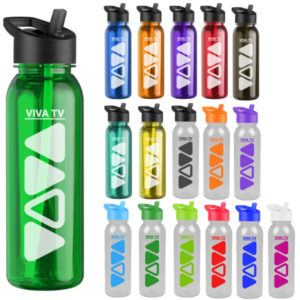 Reusable plastic water bottles are one of the best things you can have. Not only are they environmentally friendly, but they're great for your personal health and staying hydrated. There are so many options when you look for a reusable water bottle, so you've probably heard of Tritan bottles. Tritan bottles are a great option, and we have so many custom Tritan water bottles that you'll fall in love with!
Before we get ahead of ourselves, let's talk a little bit more about what Tritan is. Tritan is a BPA-free copolyester plastic that's used to make these water bottles. What this means is that this plastic material is tested and safe for you to use. With our custom Tritan water bottles you don't have to worry about bisphenol A (BPA), bisphenol S (BPS), or any bisphenol compounds that could leech into your beverage. So now that we're more familiar with Tritan, let's talk about the many different variations our custom Tritan water bottles come in.
The first thing we love about Tritan bottles is the size. We have a wide range of sizes that are perfect for any event. We have smaller bottles like our Small Traditional Water Bottle which holds 18 oz, or big bottles like our Jumbo Tethered Water Bottle which holds 36 oz. If these custom Tritan water bottles feel too big and too small, our Traditional Water Bottle with Straw is just right! It holds 24 oz which is the perfect medium between the two other sizes.
The next thing you may have noticed is all of the different lids. Our custom Tritan water bottles have so many different lids depending on what you need. A screw-on cap is great for outdoor activities since the screw-on lid will stay tight. Our Jumbo Tethered Water Bottle is a great option for this since you can loop the cap through a backpack. The large capacity is also perfect for long trips or events.
If you want an option that's more convenient for easy sipping, then we recommend our Traditional Water Bottle with Straw. The straw feature is perfect for a quick drink and feels comfortable in your hand. If a straw isn't your style, then try a flip-spout lid! Our Tritan Water Bottle with Paracord Handle is the best of both worlds. It's easy to use every day but also great for outdoor events due to the paracord handle.
Finally, we want to talk about some of our custom Tritan water bottles that have features unlike other Tritan bottles. These bottles have added features that make them stand out and catch our eye. The Flipper Water Bottle with Fruit Infuser is a showstopper! This bottle is perfect for more health-conscious people, as the fruit infuser is a great way to elevate your normal drinking experience.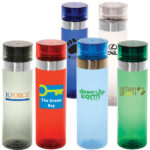 If instead, you want something with a sleek, clean look then you should check out our Slim Tritan Bottle. The slim shape of this bottle gives it a chic look. We love that the screw-on lid has color-coordinated with the bottle. It's a great size to slip into a backpack or purse and bring with you wherever you go.