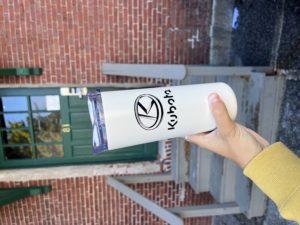 A lot of people are heading back to the office either full-time or as part of a hybrid work from home schedule, which means: the dreaded commute! Ok, commuting isn't that bad for some people, and with the help of custom tumblers the commute into work can be a breeze! The morning cup (or more) of coffee is a crucial part of almost any morning routine and being able to take it on the go with ease helps to start the day off right. Let's talk about some of our favorite custom tumblers that we use ourselves while on the go! They are perfect for the morning commute.
Petal Insulated Tumbler – this is a staff favorite! It fits perfectly in our car cup holder and the slide opening on the top makes it easy to open and close with one hand while driving or walking. Plus, it's copper vacuum insulated! The slim design makes for easy holding and a stylish feel! We love the pastel color options too. So cute!
Glass Tumbler with Bamboo Lid – Looking for something with a straw? This glass tumbler has you covered. Straws make it easy to drink while on the move, and this tumbler is perfect for your iced coffee or tea in the morning. Glass is a great material that feels high-end and is super trendy!
Travel Tumbler with Stainless Steel Straw – Another great option if you're looking for a tumbler with a straw! This tumbler is another staff favorite. We found ourselves reaching for this tumbler ahead of many others because of its convenience and performance! It keeps our drinks hot or cold all morning long and is the perfect size: not too big or small! The BPA-free lid keeps drinks secure in the car or the office.
These are just a few of the many custom tumblers we have available. No matter the size, material, or design you're looking for, we have a tumbler to fit your brand's unique identity. Shop all custom tumblers here and see for yourself! We also have tons of drinkware options over on Bulletin Basics. Our amazing team of experts is here to help you with any questions you may have, so give us a call or send us an email today!