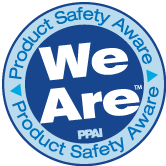 Future Bulletins, the parent company of Bulletin Bag [.com], Bulletin Bottle [.com], and Funman Promotions, is proud to be among the first to achieve 'Product Safety Aware' status in the Promotional Products Association International (PPAI) Product Safety Awareness Program.
Product safety is a top priority for us, and we have demonstrated our commitment by actively engaging our staff and adopting a corporate culture prioritizing product safety compliance training and continuing education.
Meeting the evolving product safety expectations of the promotional products industry requires regulatory knowledge and an ongoing company commitment, and we are proud to offer this expertise to our clients.