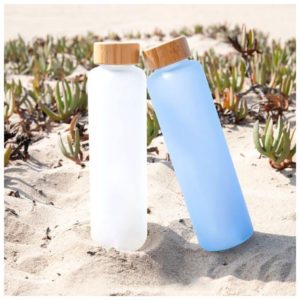 In a world increasingly focused on sustainability and personal well-being, reusable water bottles have emerged as an essential accessory. Among the numerous materials available for these eco-conscious containers, glass stands out as a top choice. There are a lot of benefits of reusable water bottles made from glass, from environmental friendliness to health advantages!
One of the primary benefits of glass reusable water bottles is their eco-friendliness:
Recyclability: Glass is 100% recyclable and can be recycled endlessly without losing quality. This significantly reduces its environmental footprint!
Reducing Single-Use Plastic: By choosing glass over single-use plastic bottles, you're contributing to the reduction of plastic waste that litters our environment and harms wildlife.
Durability: Glass bottles are built to last, reducing the need for frequent replacements, further conserving resources.
Glass is also a non-porous material, meaning it doesn't retain odors or flavors. Here's why this is beneficial:
Taste and Purity: With a glass water bottle, your beverages stay true to their original flavors, free from any lingering tastes or odors.
Easy Cleaning: Glass bottles are easy to clean and don't stain or retain residue like some plastic bottles.
Health-conscious individuals often choose glass water bottles because they're free from harmful chemicals found in some plastic bottles:
No BPA or Phthalates: Glass bottles don't contain Bisphenol A (BPA) or phthalates, chemicals often used in plastic manufacturing that can leach into your drinks and may be linked to health concerns.
No Harmful Toxins: Glass doesn't release toxins when exposed to heat or sunlight, ensuring your beverages remain safe and healthy!
Glass water bottles offer an aesthetic charm that plastic simply can't match:
Sleek and Elegant: Glass bottles exude sophistication, making them a stylish accessory for any setting, whether it's the gym, the office, or a dinner party.
Transparency: You can easily monitor your hydration levels and the cleanliness of your bottle, as glass is transparent!
Glass water bottles are resistant to staining and discoloration, ensuring they maintain their pristine appearance over time:
No Discoloration: Unlike some plastic bottles that become discolored or cloudy, glass retains its clarity, making it visually appealing.
Stain-Free: Glass doesn't retain the colors or smells of your beverages, ensuring that it looks and performs well for years. 
Glass reusable water bottles made are a sustainable and health-conscious choice that offers a range of benefits! From their eco-friendliness to their purity, durability, and aesthetic appeal, glass water bottles have become a symbol of responsible and stylish hydration! By opting for glass, you're not only making a positive impact on the environment but also ensuring that your beverages taste fresh and remain free from harmful chemicals. So, the next time you reach for a reusable water bottle, consider making the sustainable and healthy choice by selecting a beautiful and functional glass bottle! Reach out to our team today!