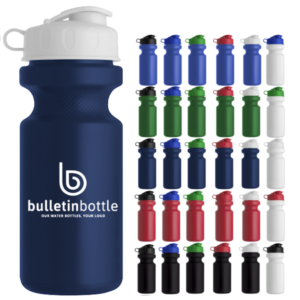 Kid-safe water bottles are different than our other bottles. Why?
Safety is a top concern when looking for kid's water bottles, and it's one of ours too. Kid-safe water bottles get rigorously tested to make sure they are safe for your children to use. All water bottles get tested, but kid-safe water bottles get extra emphasis to make sure there are no choking hazards. Keeping kids safe is one of our main concerns, so we work with you to make sure you're getting the correct water bottle for your next upcoming event. We also follow rigorous testing requirements so everyone can have fun without worrying.
The Consumer Product Safety Improvement Act (CPSIA) ensures the safety of all products, but they give special attention to kid-safe water bottles. This act makes sure that kid-safe water bottles are truly safe for kids. CPSIA breaks down four age grades and tests water bottles by the standards of each group. We take CPSIA very seriously, and we won't sell you bottles that haven't gone through CPSIA testing if you're looking for kid-safe water bottles.
We're going to talk about the best kid-safe water bottles for your specific age group. Each age group has different requirements for kids' safety so let's talk about them and help you find the right fit. Below you'll find the four age grades and some great bottles approved for kids. Cute and functional!
0-3 Years Old
This is an important group. These water bottles don't have any small parts, sharp edges, and can't detach any small parts. Water bottles in this category have high testing standards. Most kids in this age group are still using sippy cups, so there are fewer options in this category. While there are fewer options, there are still options available. Interested in sippy cups? We have options available, just ask us! We can help you find the perfect water bottle for this category.
3-8 Years Old
In this age group, small parts and detachable parts might be included from use and abuse testing. If any small parts are potentially harmful, they are required to have a small parts warning included with the bottle. This category also has several options of water bottles. We love the Camelbak 25oz. Chute Mag Tritan Bottle. The magnetic handle and ergonomic flow spout are perfect for children in this age group. Our H2Go Surge Aluminum Bottle is also great for this age group. It features a snap-fit lid with a carry handle, perfect for kids on the go.
8-12 Years Old
This age group doesn't have requirements for small parts, sharp edges, or detachable small parts. However, there is still testing that happens in this age group for other things like lead thresholds. We test all of our water bottles for things like this, but there are different requirements for kid-safe water bottles. Our Thermal Insulated Water Bottle H2Go Force is a great option. The trendy feel of this bottle paired with copper vacuum insulation makes this water bottle a hit for events and projects. It's also perfect for hot or cold liquid. It keeps hot liquid hot for about 12 hours, and cold drinks cold for about 24 hours! The perfect bottle for long days.
13 Years Old and Older
CPSIA does not have age requirements for ages above 13, so all water bottles on our site are approved for use. We have a wide collection of bottles that kids 13 years and up can use. If you're older you might be looking for something more aesthetically pleasing. One of our best sellers is our Acrylic Tumbler with Straw. This is a great option for kids who are looking for something sleeker than a normal water bottle. We love this tumbler for shopping trips and beach days! The perfect tumbler for an iced coffee or tea!