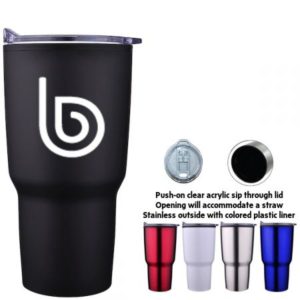 Are you looking for an alternative to our copper insulated—but EXPENSIVE!—retail-inspired custom tumblers? The Large Stainless Steel Tumbler might be just what you're seeking!
Just because an item is less expensive does not mean it's poorly constructed, however. This tumbler has kept the details that matter intact! The exterior comes in all the most popular colors, and is made from stainless steel. It's more lightweight than our higher-end tumblers, and that's because its lined in colored, BPA-free plastic and is not copper vacuum insulated.
Our staff tester said, "This tumbler offers some awesome features that make it a great value, so don't think just because it's less expensive means it's cheap." She loved how the push on lid has a slide closure and noted that some of our more expensive tumblers don't offer this type of lid. She believed that this was helpful in extending the time her beverages stayed hot or cold, and also prevented spills. Our tester also liked the wider opening that could accommodate a straw.
Like its more expensive counterparts, the design of this tumbler (wider at the top, and tapered at the bottom) allows for it to fit in most cup holders. That, combined with the large, 30 oz. capacity, makes it perfect for long commutes or for traveling. Our staff tester kept this one on her desk during the day for coffee in the morning before washing it out and using it for water during the rest of the day.
All in all, the Large Stainless Steel Tumbler is a great value for the cost. A lower price point means more room for profit on a fundraiser or some breathing room on your budget!
SHOP NOW! Large Stainless Steel Tumbler
Item #:
AAB68430
As low as:
$4.85
Minimum 100 pcs.
Includes one color logo.