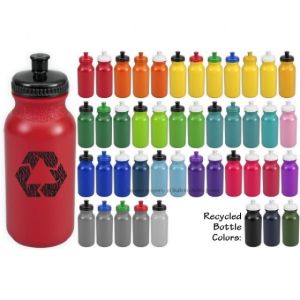 Shopping around for the best deal on promotional water bottles? There's a lot to consider and thousands of options to search through on the internet. Overwhelmed?? We don't blame you! You may think that the most important thing to consider is budget. However, there's more to pay attention to than just the bottom line. Promotional products are a huge industry, meaning there can be discrepancies in product quality on the market. It's important to do your research before investing in a product. Here are 5 things to consider to when shopping for promotional water bottles to ensure you find the best one:
1. Water Bottle Product Safety.
If you're shopping for water bottles for children, you must consider product safety. Every water bottle on our site is age graded for the safety of your recipients. Bulletin Bottle was one of the first distributors to achieve 'Product Safety Aware' status in the Promotional Products Association International (PPAI) Product Safety Awareness Program. Rest assured there is nothing more important than our client's well-being. We have a variety of water bottles that have been certified safe for children, you can check them out here. You can also read more about this over on our FAQ page. We have close relationships with our vendors to ensure our high quality standards are exceeded with each product we sell.
2. Bottle Material.
Glass, tritan, stainless steel, recycled plastic—the choices can be overwhelming and there are many subtleties within each of these material categories. So, when comparing bottles that LOOK the same, dig deeper to make sure the steel is the same grade, or that it's the same plastic composition. This is one of the reasons why it's important to purchase from a company with full transparency and knowledge of their products. At Bulletin Brands, you can find every product's material right on the product's page. When in doubt, reach out to our team of knowledgeable staff!
3. Bottle Imprint Layout.
Do you have a picture in your mind of how your logo will go on the bottle? Check the layout options for each bottle that you're considering. Some may have limitations that don't align with your vision, so it's important to consider layout options and printing capabilities for your product. Have a multi-colored vision for your messaging? Not all bottles can be printed in multiple or full color. You can find all printing options for our products right on our website.
4. Water Bottles Made In ?
Where the bottle is made doesn't normally matter to a lot of clients. However, if your company culture—or desire—is to source close to home, USA-made water bottles will likely be on top of your list. We have a whole section of USA-made bottles on our website, so browsing through that section is a great place to start. Whether it's manufactured in the USA or overseas, every bottle is bound equally to CPSIA product safety guidelines (see #1 above).
5. Price Matters.
We know it does. That's why we try hard to keep our prices competitive while offering expert product safety advice and top-notch customer service. There will always be something less (and more!) expensive out there, but it's important to consider all the different factors we discussed. Price is only one piece of the puzzle. If budget is your top priority though, we do have affordable, low-cost bottle options available that don't sacrifice quality or safety.
We hope this helps you in your search for your next promotional water bottle! We know there's a lot of options out there, so thank you for considering Bulletin Brands. We're happy to help you get your project started in any way we can. Reach out today!