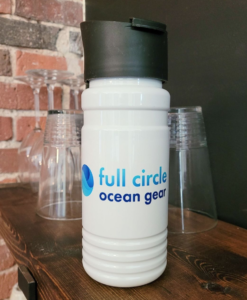 There's been a lot of talk lately about recycled plastic and whether it's safe to use with food and beverages in our homes. This type of topic can be confusing, as there's inconsistent information around the internet and it's hard to tell what's what! Everyone wants to ensure their products are safe to use, but as a consumer it can be difficult to figure out which products actually are. Well, safety is our #1 priority here at Bulletin Brands, so we wanted to dive deeper into this topic to set your mind at ease. We always want to make sure our products are exceeding any and all safety standards. (Spoiler alert: they are!)
A study recently came out stating that rPET plastics pose a greater risk to our health due to the fact that they leach more chemicals than their nonrecycled counterparts. It was found that some of these chemicals exceeded regulation standards. Due to this worrisome information, the study calls for even more stringent recycling practices to keep us safe from chemical exposure. The person who led the study, Dr. Iacovidou, called for companies to invest in "super-cleaning" technologies to decontaminate the recycled PET to reduce chemical exposure for consumers.
While information like this can be scary, we do have some good news. As Dr. Iacovidou states in the study, this plastic needs to be properly cleaned and processed to ensure its safety for consumer use. They recommend "super-cleaning" technologies. The good news is that the manufacturing process used in our recycled bottles already utilizes this super-cleaning technology! The machines used to sanitize the recycled materials have been are approved for food contact by the FDA. We also have it independently tested by a third party every year. In other words, we take consumer safety extremely seriously, and go above and beyond to make sure our recycled water bottles are safe. (Even before this study came out!)
All of the bottles that you see on our site have met the FDA standards for food safety. Phew! We've done the research and digging so you don't have to. At Bulletin Brands, you can feel confident in your purchase knowing that we have the same priorities you do – safety first while maintaining quality products. We have close relationships with all our vendors to ensure our high standards are maintained and you're getting the best quality product. We hand pick all our products after personally testing each one, because we care about providing value to our clients.
If you'd like a copy of any of the safety tests conducted regarding our water bottles, please reach out and we're happy to provide those. We are here to answer any questions you may have about our bottles, the materials used, and the safety of those materials. Our entire team here is certified Product Safety Aware through PPAI, and all our products meet any applicable CPSIA safety standards.
Recycled plastic not your thing? Browse through our other material options like glass and stainless steel.