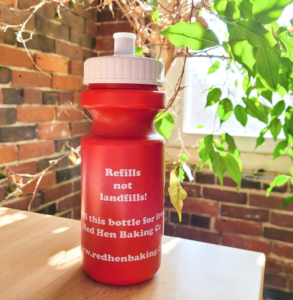 Reusable water bottles are items that almost all of us use every single day, no matter what industry we're in. They're more than just hydration: they're a lifestyle accessory, fashion statement, and a walking opportunity for marketing and branding. To answer our question directly: Yes. Reusable water bottles are absolutely still worth it. And it doesn't look like they're doing anywhere anytime soon.
Reusable water bottles are an ideal option when looking for custom promotional items because of their versatility. No matter who is on your team, who your employees are, or what demographic you're selling to, water bottles are something everyone can use and enjoy. Those details come into play when choosing your water bottle style and design, however. Think about what your audience will be using it for, what message you want to convey, and what values are important to your organization.
In a recent survey, 84% of respondents claimed that they have a favorite beverage container they consider their 'go-to'. What does this mean? This means that quality matters. People use the bottles that perform well and discard the ones that don't. 40% of these respondents say that they keep their piece for several years. Again, this shows that high-quality bottles that are built to last are worth the investment. Although people will keep their favorite bottles are years, 60% still purchase a new one every year. This means that just because people have received a promotional water bottle before, doesn't mean they're closed off to receiving a new one. It's a marketing tool with the potential to keep on giving!
You may have been thinking that the promotional products industry is saturated because everyone has them, but that couldn't be farther from the truth! This survey helps us see that people still enjoy receiving quality, unique promotional items that they can use daily. Creating a reusable water bottle that sets you apart from others in your industry is crucial to connecting with your audience. We have the perfect bottles to do just that! Plus, our team of experts is here to offer advice and guidance with everything from color choices to shipping options. Don't hesitate to reach out! Shop our custom bags and other promotional items as well.