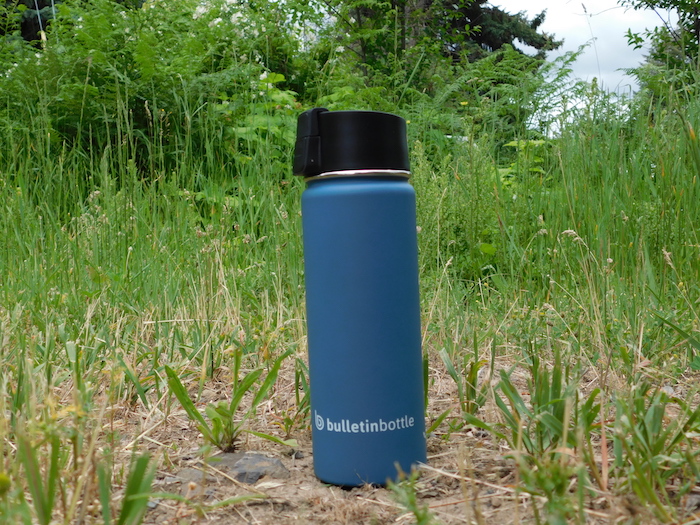 Here at Bulletin Bottle we really do hand-pick our items before putting them on the site. Sometimes, a bottle (or tumbler) comes along that we unanimously love SO much that we can't stop talking about it. In the case of our Rubberized Insulated Sports Bottle, we went so far as to do a small run with OUR logo on it. We love it that much! Then Deborah graciously offered to write a staff review, so we're sharing what she (well, what we ALL) think!
Deborah said, "This is the perfect bottle for business travelers or campers alike!" This bottle is kind of a hybrid, as it can be referred to as either a tumbler or a bottle. Either way, it's got a classy, sleek design, which is universally appealing.
The bottle itself is wrapped in the same soft-touch, "rubberized" coating found in the other items in this line and is really unique and durable. The lid unscrews to reveal a wide opening that you can easily fill with ice (and washing it is a breeze). The well-constructed, durable lid releases via push-button. The part of the lid that fits into the drinking spout is wrapped in silicone to prevent leaking, and it snaps shut with a reassuring click.
Deborah's favorite thing about this bottle (besides everything she already mentioned) is the ability to take it anywhere, knowing that coffee will remain hot or iced tea will remain cold! With double-wall, 18/8 stainless steel construction and vacuum insulation, she's definitely right about that! Deborah also commented that if you're a person that drinks out of a straw, many reusable straws will fit through the drinking spout, too.
There was a comment about this bottle that circulated around the office during our initial evaluation period. Jennifer said that it bothered her that when she drank from this bottle's spout, her nose glances off of the silicone lid plug. She said it wasn't enough to make her dislike the bottle, but it kind of drove her crazy. So, in the spirit of disclosing the positive AND negative aspects of an item, we thought you should know, too! Please, no big nose jokes.
Deborah's parting thoughts: The Rubberized Insulated Sports Bottle is a great gift for customers and employees alike. This bottle is among my top 3 favorites, ever! And…that pretty much sums up how we ALL feel about this one!
Item #: 11B68520
As low as: $10.38
Minimum 50 pcs.
Includes one color logo.