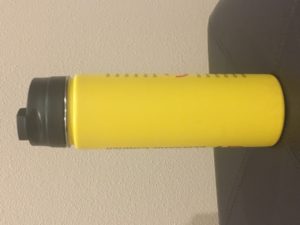 Our h2go Nexus Thermal Tumbler collection has it all. Three sizes, tons of colors, awesome print capabilities…and they're insulated!
Our staff tester, Deborah, took a closer look at the Large h2go Nexus Thermal Tumbler and had a lot to talk about!
She said, "My husband was instantly drawn to the bright yellow color! He works outdoors, and the option for him to have ice cold water, hot coffee, or even a warm soup for lunch is a huge plus for him!"
The Large h2go Nexus Thermal Tumbler is so versatile, it's worth every penny! Take the sleek design that fits in a cup holder, add the ability to tote hot and cold beverages (or soup!) and the awesome flip top lid that securely snaps in place and you have a well-rounded tumbler that can please everyone!
The tumbler has a wide mouth, too, so it's easy to fill with ice and get into to clean at the end of the day. The h2go Nexus line is also CPSIA age graded for children ages 3 and up, so while the large tumbler might be too big, the smaller two sizes are perfect for little hands!
As Deborah mentioned, this bottle comes in tons of awesome colors, and the finish is matte powder coated, to be right on trend alongside the retail brands!
We love the rugged simplicity of the Large h2go Nexus Thermal Tumbler. If you're looking for an insulated travel tumbler, this is one to consider!