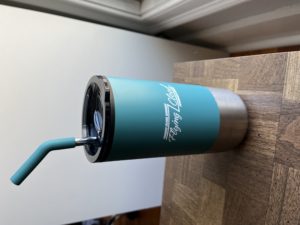 At Bulletin Brands, every single product you see on our sites has been hand-selected by our knowledgeable staff and personally tested to ensure quality and function of each product. You read that right! This means we have intimate knowledge of each product because believe it or not, we use them in our own homes! At a recent staff training, we each shared what some of our favorite products were, and why we loved them. Let's see what everyone had to say!
Suzette, Owner
Suzette's favorite bottle at the moment is the Handle It Insulated Bottle – "At first I worried that the handle would break, but it's held up incredibly well. This bottle is taller than I thought, and the matte finish is really sleek. This is my husband's go-to bottle!"
Jennifer, VP of Everything
Jennifer says her favorite item is the Sleek Stainless Steel Tumbler – This is a super versatile tumbler that's great for so many occasions. She loves the stainless streel straw and says it's a "nice, higher-end touch that won't discolor with the use of different drinks!
Ben, Project Manager
Ben's favorite bottle is the Takeya Originals 18oz Insulated Water Bottle – "These bottles are simple and stay cool for so long. The wide mouth opening, and very simple structure of the lid makes it super easy to clean compared to some of the other pop or straw tops. Additionally, the handle is sturdy so you can carry it without worrying about it falling off or breaking. The bottle itself is also super sturdy, I have dropped mine and the floor is more likely to break than this thing!"
Ashley, Marketing Assistant
Ashley's current favorite bottle is the Insulated Travel Tumbler with Stainless Straw – "I sampled this tumbler for a blog I wrote and ended up really liking it …especially the straw! I use the straw outside of the tumbler everyday while drinking water at my desk. And the tumbler itself is great (and a cute color!)"
Jayme, Sales Administrator
Jayme's favorite bottle is the Color Changing Sport Bottle with Straw – Jayme is a strong support of USA Made products and loves the wide variety of USA-made bottles we have. She likes this bottle because its super fun and cute!
Our favorite items are always changing and it's so fun for us to continually try new products! Our team is a great resource for all things promotional products, so reach out today if you're looking for an answer to a question, some advice on a project, or just want to say hi! You can learn more about our amazing team here.