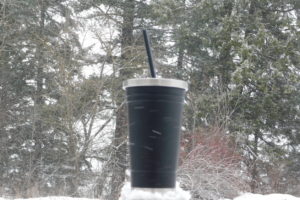 Have you seen our newest category of custom tumblers? They take buying wholesale water bottles to a whole new level. Gone are the days of only having bike bottles and squeeze bottles to choose from when considering a bulk water bottle purchase. There's still a very definite place for those type of bottles, but options have grown a lot over the years to include high end, retail inspired designs.
A great addition to that category is our classically designed Stainless Insulated Tumbler with Straw. We think this is going to be (one of) this year's hottest items. As recently as Monday night, we saw two celebrities using this same style to drink from during a popular television show!
Why is this thermal tumbler so great? Glad you asked! The classic design features a screw-on, stainless steel lid with a heavy-duty, BPA-free, straight plastic straw (pro tip: pipe cleaners work GREAT for cleaning reusable straws!). It kept our staff member's drink cold for more than 8 hours! And double-wall vacuum insulation means no sweating or condensation, to boot.
Our staff tester did have some things she'd change if she could wave a magic wand. She wishes it were bigger, for the times when 18 ounces just isn't enough fluid for a trip. Also, there isn't a nub on the end of the straw, to keep it from falling out. And finally, this tumbler, unlike many of our others, is meant for cold beverages only (would you really want to sip hot coffee from a straw??).
Our staff tester also commented, "Whether you're planning to buy wholesale water bottles for employees at work, or your on-the-go clients, this tumbler is simply awesome!"
This insulated tumbler is easy to clean, which is always a plus, and it comes in either a stainless or matte black finish, for a very attractive, high-quality gift or promotional item for everyone.
Want more info? Email Deborah and ask her! She's the one who tested this item!