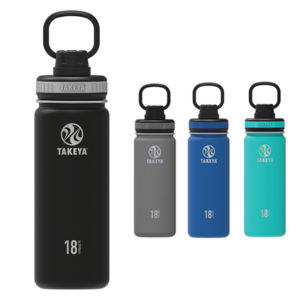 When we launched Bulletin Bottle in 2012, we didn't offer brand name water bottles. Our clients were looking for inexpensive water bottles; something different, but nothing that would rock the boat in terms of budget. The water-bottle-as-accessory thing didn't really take off until a few years later. Boy, has it ever taken off, so we're thrilled to introduce the Takeya Originals 18 oz. Insulated Water Bottle to our lineup!
Our Takeya Originals is the exact same bottle that you see on the shelves in your neighborhood Target, or Nordstrom, or Macy's. The only difference is that ours have YOUR logo on them!
Staffer Jennifer has been testing this bottle for a few months now. Here are 5 reasons why she thinks this bottle can go the distance on your next branding campaign:
1. It's a brand name. Retail branded bottles tend to be perceived as very special gifts by the recipient. Plus, they're ALWAYS in style! If it's the same water bottle that they can go out and buy tomorrow, it somehow becomes more treasured when it's a gift. And that means your brand is also looked upon more favorably.
2. Nice features! Let's face it. There's only so much innovation that can happen with water bottles. But Takeya has added some nice touches to their brand. The generously sized handle features a stainless steel pin, which gives it a uniquely comfortable swing. They also have engineered the drinking spout opening with a reverse-threaded lid. This means that the part of the spout you put your mouth on is smooth—the threads are on the inside! When coupled with the silicone bands on the lid rim (which provide for easy opening and damage-control when the bottle is dropped), this all of a sudden becomes an innovative bottle!
3. Cold (or hot) drinks. Our drinks are definitely staying cold until the last drop. We haven't tested hot drinks, but given the insulating properties of the bottle, we bet that our coffee would stay warm too! Who wants hot drinking water when they're expecting cold? Yeah, we didn't think you did. And your recipients don't either.
4. Durability. Jennifer's dropped her Hydro Flask a few times (ouch…) and has the flaked-off powder coating to prove it. The Takeya has also been dropped (sigh) and is fairing quite well. Some might say that dents and bruises and scrapes build character. Maybe…but you can also just throw a sticker on top of it and pretend like it never happened. Regardless, this bottle is taking its licks like a champ, whereas some other bottles would have crumpled under the pressure (literally!!). We don't recommend dropping your water bottles on purpose, though.
5. Value. When you buy the Takeya Originals 18 oz. Insulated Water Bottle in bulk, you have the added benefit of your branding added professionally to the bottles. And just like their retail counterpart, Takeya stands behind their product. So while the bottles may be more costly than some of our others, you are getting a quality product that you can be proud to sell, give away, or reward!