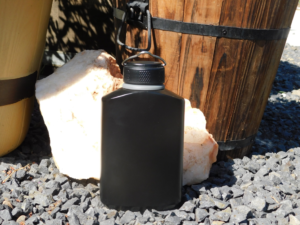 Are you looking for a promotional canteen? One that you can put your branding on but that can actually be used for real life expeditions? If so, you likely already have discovered that they're not at all easy to find. That's why our Aluminum Canteen is so special.
Recently staffer Deborah took it for a spin around her weekend. She writes, "I really like the compact size of this canteen. It has an adequate capacity for carrying with me on hikes, motorcycle rides, and horse rides. Plus, the aluminum construction means it's lightweight!"
Featuring classic, timeless design, this single wall canteen features a twist-off lid and sleek body. A stainless steel loop is attached—just clip a carabiner or backpack strap to it and go! As you read above, Deborah did just that! One thing to note that this canteen is a single-walled drinking vessel, so it's meant for cold beverages only.
A canteen is a canteen…but when you pair it with your branding, it makes a statement to any recipient. It's even a little "retro", in a cool, refined way. Deborah's final word?
"What a cool little canteen to carry! It easily attached to my backpack, and it was handy to have a low-profile bottle on hand. The lid screws on tight, and I knew my water was close at hand."
There you have it. The Aluminum Canteen is simple, retro, and convenient…and quite uncommon, which means it will cut through the promo clutter and stand out!