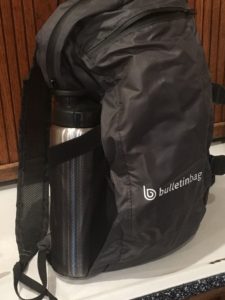 Looking for a single-walled stainless steel bottle that's a little different, but still classic in styling? Our Spigot Stainless Bottle might be what you're after! It's long been a staple on our website, and Deborah recently spent some time using it to find out just why our clients like this bottle.
Metal bottles have been sought-after items for our clients since we launched Bulletin Bottle in 2012. With the introduction of insulated water bottles with uber-long temperature control, we thought we'd see a decline in the popularity of single wall bottles. However, that hasn't been the case at all, evidenced by the fact that timelessly styled bottles, like this one, are still selling well!
Deborah says, "The opening on this bottle is a good size to get lots of liquid flowing quickly. When you release the lid and push it back, it doesn't bump my nose or get in the way of drinking (yes, it can be a problem!)".
The Spigot Stainless Bottle's got a very generous 26 oz. capacity, which makes it one of the larger bottles on our website. Despite its size, the sleek design will fit in most bottle holders or pockets (like on the side of a backpack). For a gal on the go, as Deborah is, finding water bottles that fit wherever she wants to stash them is key. For that reason, the capacity and style are her favorite things about this bottle.
"Sometimes I just need to take a walk by the river on the way home from town. I can throw in some water, tuck it in the outer sleeve of my backpack (that I keep in the car for just such an occasion) and I'm off with my camera to find the next great shot," Deborah elaborates. "It's lightweight and handy to have along on my travels."
Every great bottle's got to have a downside though. Deborah has grown accustomed to the aforementioned double wall, insulated water bottles. As such, she's not a huge fan of a bottle that can be used only for cold liquids as this one is. The lack of insulation also means it will sweat with very cold liquids, as will any other single-walled drinking vessel.
Despite these shortcomings that are really just characteristics of a single-walled stainless steel bottle, we think (and our clients agree) that the large size and classic style of the Spigot Stainless Bottle make it a great contender for any project where a high-perceived value is important.