Custom aluminum bottles continue to be very popular items. They at once straddle the line between budget friendly and high perceived value. Metal bottles are typically trendy, stylish items and appeal to a wide range of people, making them a good bet when looking for ways to leave a mark on your organization's target audience.
Since our clients are always hunting for a good deal that still makes their branding pop, we have added a few new aluminum water bottles to our lineup. We especially like the h2go Surge Aluminum Bottle.
Let's just start with the colors. We mean, come ON! They're pretty amazing hues, and we challenge you to show us a logo won't look amazing on one of these. From the more traditional graphite and silver, to eye-catching neons, you have an amazing color palate to work with.
We love the lid on this bottle. It's a wide mouth opening, which is perfect for handfuls of ice (don't you just hate feeding your cubes in one. at. a. time?) and makes cleaning a breeze. The lid itself is threaded, with a top that flips open to reveal a generous drink through opening. The top snaps closed, protecting your drinking surface. The bottle is finished with a carry loop.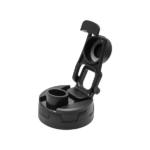 The straight-walled design lends itself well to creativity with your printing. You can do a standard one-color design, or choose from one of our newer print techniques like Dynamic Gap, which transforms your bottle into a custom work of art that looks like it came straight from a store shelf! For more information on that, read this.
As you can see, this bottle has it going on! If custom aluminum bottles are on your short list of branding items, our h2go Surge Aluminum Bottle is definitely worthy of a closer look.
The stylish design and nice details, combined with the amazing print capabilities, make this bottle a great choice that your recipients will thank you for!