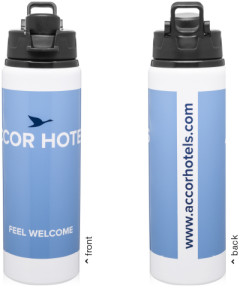 When planning a project, it can be daunting to decide your bottle logos should look like. Should you use your company logo? Design something new? How do you maximize the imprint area and make your message stand out? Did you know that we have a selection of bottles with the capability for a seamless, full color wrap?
Many of our clients have expressed the desire to make their bottle logos fully wrap around. Up until now, the only option was a wrapped design with a gap, usually about ¾", to avoid smearing and lessen the appearance of slight misalignment. The technology just wasn't there to craft full wraps with perfect precision. Until now.
Now with a two (or more) color imprint, we can craft precision, seamless wrap imprints on select bottles. Choose from three different design options for your custom bottle logos and the finished product will look like a retail item!
Have a need for a full color wrap? We can do full color printing as a wrap, and then lay something in the gap to fill it up.
Put an additional message or design in the gap using a second color. With this option, you use the gap for a logo, tagline, or even a website!
Alternate your colors and designs to make it hard to tell where one color starts and the other ends. This is best suited for clients who have a designer working with them, and what the artwork lends itself to.
Choose from our full wrap stock designs. Simply change the colors to match your branding and make your bottle logos stand out! We have a number of stock designs that take the guesswork out of the process.
Whether or not this new process will work with your project is really dependent on your unique needs. What elements do your logo contain? What is your budget? What is your color scheme? There are instances in which this won't be the best method for your bottle logos, and times when the bottles and/or the printing could be cost prohibitive.
Bulletin Bottle is committed to providing the highest quality imprinted water bottles. We work closely with our clients to make sure you choose the best water bottle for your budget, needs, and artwork. Send us a copy of your art and we will help you determine the best bottle and print method for your project. We'll even get a virtual created to show you what the finished product will look like! Just contact us for more information.