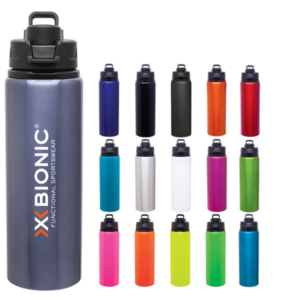 When you think of a reusable water bottle, you're probably not thinking about the material it's made out of. The material that these bottles are made will change the function that each bottle has! Not all bottles are made with the same function in mind. Some water bottle materials are equipped to carry hot liquids. Some only carry cold options. With all the options, it's good to know the difference.
Knowing the difference in water bottle materials will help you narrow down your options! With so many options it's hard to decide. We're here to help you understand what makes each material different. Every material is unique, so the best way to tell what you'll like is by doing some research. Let us help you! Below we're breaking down each material and why we love them! That way you can choose the best bottle for you.
Stainless Steel
Let's start on a high note! This is one of our most popular materials, and It's not hard to see why! These bottles are generally made with food-safe stainless steel and are customizable to what you like! The metal is non-reactive, meaning that these bottles won't leach into liquids. Since they won't leech, they don't need any inside lining. Many stainless steel options are also insulated which is an awesome addition! Insulation will help keep your cold drinks cold and hot drinks hot! Keep in mind that stainless steel contains nickel, so people with nickel allergies should avoid these bottles. These bottles are great for corporate events and big projects.
Aluminum
Aluminum is another metal material that our water bottles come in. These bottles have a lower price point than stainless steel options, and are also lighter to carry! Aluminum can react differently to certain liquids, which is why aluminum bottles are lined on the inside. Some lining options are enamel, resin, or polymer. All of these lining options help protect the bottle and yourself. These lightweight bottles are also great to throw into your bag! They make a great travel accessory. Most of our aluminum bottles also come with a carabiner for easy attachment. We love the carabiner for outdoor projects or a big sporting event!
Glass
What an excellent option! Glass is a sustainable material and has a non-porous surface. This means our glass bottles won't alter the taste of your drinks and that they won't change over time. A lot of people also like glass since it offers a sleeker look than other bottles. This stylish option can also come with silicone sleeve covers! These sleeves are soft to the touch and great for easy gripping. These silicone sleeves also come in a variety of colors and styles. Glass bottles are a perfect choice when you want a polished look for everyday tasks!
BPA-Free Plastic
Plastic is always popular! Any plastic water bottle that we carry will be BPA-free, as we take safety very seriously. We won't sell plastic material that might be harmful to you or others who use these bottles. BPA-free plastic water bottles are cute and convenient! Plastic is a very common material for water bottles so the options are endless! We have the perfect BPA-free plastic water bottle for anyone in your family. They come in a large variety of styles and sizes for any event. The plastic material is durable and perfect for anything that might come your way!
Tritan
We love these bottles! Tritan is a strong and resistant material that has gained popularity since its introduction to water bottle production! Tritan is a copolyester plastic material that has become an absolute show stopper. This material is shatter-resistant and odor-resistant. It is even safe for the dishwasher but we don't recommend it. Washing these bottles in a dishwasher could ruin or fade the imprint on your bottle, so we always recommend hand-washing all bottles on our site. We want your bottle and your logo to last as long as possible! Tritan bottles have a lot to offer, and we love these bottles for school and outdoor events.
Recycled Materials
We don't have a lot of options for recycled water bottles because it is hard to guarantee they are safe for drinking. It is tougher to track recycled materials and the original purpose of those materials. We don't use materials that could be unsafe to you or others since they could cause health risks that we would rather avoid. Our selection of recycled bottles is small because we are confident the materials are safe for use. These bottles are environmentally friendly and great for any project!