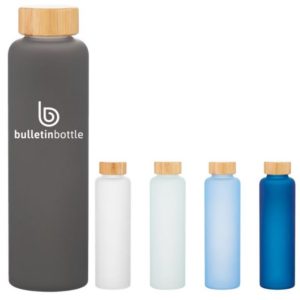 We just added some great new products to our bottle page, and we wanted to review one for you! Our new H2Go Frosted Glass Rincon Bottle is a staff favorite. This show-stopping bottle is beautiful and easy to use. With so many amazing features, we couldn't pass up the opportunity to tell you all about it!
We love testing out different water bottles to see how they stack up. Each water bottle is handpicked, to make sure that we're only offering the best. Our staffer Mary has been using this bottle for the past two weeks. She noticed a lot about these glass bottles. Read along because we're breaking down the pros and cons of our H2Go Frosted Glass Rincon bottle.
For starters, these 18 oz. bottles are great for casual sipping. These bottles are perfect for our fridge's water dispenser or any public fill-up stations. The size and shape of the bottle make it comfortable to hold and will fit almost every cup holder. Mary says that "this bottle is so aesthetically pleasing, I love bringing it out with me to run errands. The one downside of this bottle is that it is only 18 oz. so I do find myself filling it up several times a day."
On your way to the water station, you'll get compliments left and right! The frosted glass adds a sleek and powdered look to the exterior of this bottle. Mary let us know to "people talk about this bottle all the time. I always have people asking me where they can get their own." It also helps curb condensation. The twist-off cap glides on and off with ease. Our staffer Mary says that "while a twist-off cap isn't as convenient as a flip straw or spout, the twist is fast and easy to use at a moment's notice."
Glass is non-porous which makes this bottle more resistant to odors or bacteria that could build up. The glass bottle is also useful for avoiding odors or bacteria. Hand washing this bottle is easy to do so you don't ruin your logo or design by dishwashing. One of Mary's best tips is to cleanse your glass bottle with white wine vinegar and soap. The vinegar will get rid of any odor and a quick rinse with water will leave no aftertaste or residue. The soap will clean your bottle and make sure there's no bacteria or build-up in the bottle.
All in all, we love our H2Go Frosted Glass Rincon Bottle. It's one of our favorite bottles for casual everyday use, and it's becoming a reliable staple to our day. We only use it for water, but it can hold any cold beverage you want!