It's no secret that the cost of just about everything has risen the last few months. From gas to groceries, it seems like everyone is cracking down on their budget in response to these increased costs. We know that marketing budgets are no different. That's why we've compiled 5 of our most cost-effective bottle options for you to check out. The great thing about Bulletin Bottle is that you never have to sacrifice quality for cost. We're here to help you create a powerful marketing campaign while sticking to your budget! Let's check out these bulk water bottles below:
1. Squeeze Water Bottle – this bottle starts as low as $0.92. That's hard to beat! It's BPA-free and union made right here in the USA, so you can feel good about purchasing American made goods. It holds 20oz and comes in a variety of different lid colors!
2. Squeeze Water Bottle Colors – this is the same bulk water bottles as above, but it comes in 24 different bottle colors. So, if you have a specific color in mind for your design, this is the bottle for you!
3. Pint Sports Bottle with View Strip – this bottle starts as low as $1.11 and is perfect for cyclists. It's a 16oz bike bottle with a push-pull cap and has a clear view strip on the side so you can see how much water is in the bottle. We love this feature!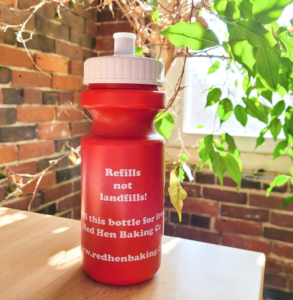 4. Bike Bottle – this bottle starts as low as $1.15 and is BPA-free and union made in the USA. This bottle has a Colors option as well if you're looking for a colorful bottle! This classic bottle is perfect for active individuals or sports-related brands.
5. Fold Up Water Bottle Bag – this bag is collapsible when empty making is perfect for hiking or school. It starts as low as $1.25 and has a twist-on, push/pull drink spout with a removable cap.
Although these bulk water bottles are low-cost, they do not sacrifice value or quality. It's important to us to offer affordable options that can still meet our extremely high-quality standards. We know you'll love these bottles as much as we do! Get creative and create something unique for your audience!